Phone book
Displays
The phone book accesses the contacts and shows all contacts for which a phone number has been stored. The entries can be selected to make a call.
1. "Telephone"
2. "Phone book"
A symbol indicates the storage location of the contacts.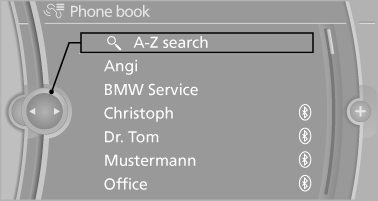 Calling a contact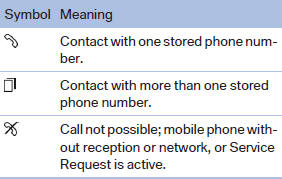 For contacts with one stored phone number: select the required contact. The connection is established.
For contacts with more than one stored phone number: select the required contact and the phone number. The connection is established.
Editing a contact
Changing the entries in "Contacts". When a contact is changed, the changes are not stored on the mobile phone. A copy of the entry is stored in the vehicle.
1. Highlight the contact.
2. Open "Options".
3. "Edit entry" The contact can be edited.
See also:
Tire Identification Number
Tires with DOT codes meet the guidelines of the U.S. Department of Transportation. DOT code: DOT xxxx xxx 3410 xxxx: manufacturer code for the tire brand xxx: tire size and tire design 3410: ti ...
Buttons at a glance
Buttons at a glance 1 System on/off, interrupt 2 Resume speed 3 Store speed 4 Reduce distance 5 Store, maintain/change speed 6 Increase distance ...
Disposing of old batteries
Have old batteries disposed of by your service center or bring them to a recycling center. Maintain the battery in an upright position for transport and storage. Secure the battery so that ...