Opening the favorites
If an activated favorite is played back, the following message appears for approx. 20 seconds: "Favorite alert!".

"Favorites"
Select the symbol while the message is shown.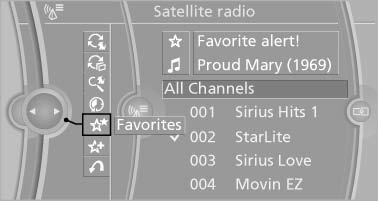 The displayed favorite is played.
If there is no message, the system changes to the My Favorites category. All favorites currently being broadcast can be selected from a list.
See also:
General information
Always make sure that safety belts are being worn by all occupants before driving away. Although airbags enhance safety by providing added protection, they are not a substitute for safety belts ...
View of an opened menu
When a menu is opened, it generally opens with the panel that was last selected in that menu. To display the first panel of a menu: Move the controller to the left repeatedly until the firs ...
Entertainment
The chapter helps assure your enjoyment when receiving radio and television stations and playing CDs, DVDs and tracks from the music collection. ...