Filtering traffic bulletins
You can set which traffic bulletins appear on the map.
1. "Navigation"
2. "Map"
3. Open "Options".
4. "Traffic Info categories"
5. Select the desired categories.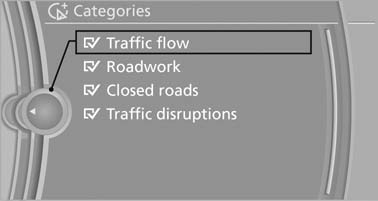 Traffic bulletins of the selected category are displayed on the map.
Traffic bulletins that are relevant to the route are always shown.
For your own safety, traffic bulletins that notify you of potentially dangerous situations, such as wrong-way drivers, cannot be hidden.
See also:
Malfunction
Comfort Access may not function properly if it experiences interference from external sources such as mobile phones, metal objects, overhead power lines, transmission towers, etc. In this case, ...
Functional requirements
The system must have been initialized when the tire inflation pressure was correct; otherwise, reliable signaling of a flat tire is not ensured. Initialize the system after each correction of th ...
Washing in automatic car washes
Your vehicle can be washed in automatic car washes right from the start. Give preference to cloth car washes or those that use soft brushes in order to avoid paint damage. Notes Note the foll ...