Display

The driving distance or the time to the next service is displayed briefly after the ignition is switched on.
The current service requirements can be read out from the remote control by the service specialist.
Data regarding the maintenance status or legally mandated inspections of the vehicle are automatically transmitted to your service center before a service due date, Automatic Service Request
Detailed information on service requirements
More information on the scope of service required can be displayed on the Control Display.
1. "Vehicle Info"
2. "Vehicle status"
3.

"Service required"
Required maintenance procedures and legally mandated inspections are displayed.
4. Select an entry to call up detailed information.
Symbols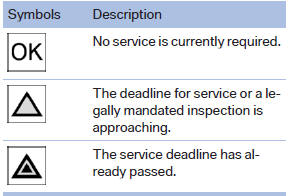 See also:
Concierge service
General information The BMW Assist Concierge service offers information on events, gas stations or hotels, and provides phone numbers and addresses. Hotels can be booked directly by the BMW Ass ...
Driving through water
Drive though calm water only if it is not deeper than 9.8 inches/25 cm and at this height, no faster than walking speed, up to 6 mph/10 km/h. Adhere to water depth and speed limitations Do not ...
Incoming call
Receiving calls If the number of the caller is stored in the phone book and is transmitted by the network, the name of the contact is displayed. Otherwise, only the phone number is displayed. I ...