Active seat
Active adjustment of the seat cushion's contours reduces muscular tension and fatigue to help prevent lower back pain.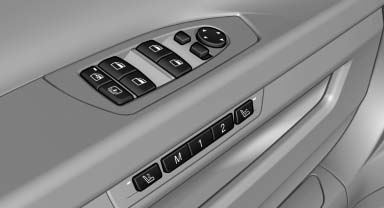 Press the button. The LED lights up.
See also:
DTC Dynamic TractionControl
The concept The DTC system is a version of the DSC in which forward momentum is optimized. The system ensures maximum forward momentum on special road conditions, e.g., unplowed snowy roads, bu ...
Switch off the engine during longer stops
Switch off the engine during longer stops, e.g., at traffic lights, railroad crossings or in traffic congestion. Fuel savings are achieved after the vehicle is switched off for only approx. 4 s ...
Calling up the desired speed and distance
While driving Press the button with the system switched on. In the following cases, the stored speed value is deleted and cannot be called up again: When the system is switched off. When ...