Lumbar support
The curvature of the seat backrest can be adjusted in such a way that it supports the lumbar region of the spine. The lower back and the spine are supported for upright posture.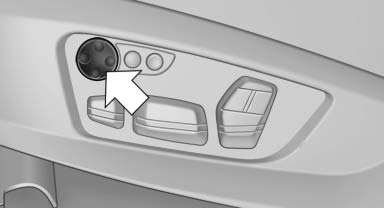 Press the front/rear section of the switch. The curvature is increased/decreased.
Press the upper/lower section of the switch. The curvature is shifted up/down.
See also:
Hydroplaning
On wet or slushy roads, a wedge of water can form between the tires and road surface. This phenomenon is referred to as hydroplaning. It is characterized by a partial or complete loss of contact ...
Example: dialing a phone number
1. Briefly press the button on the steering wheel. 2. ›Dial number‹ The system says: »Please say the number« 3. E.g., ›123 456 790‹ The system says: »123 456 790. Continue? « 4. ›Dial‹ T ...
Switching the system on/off
Press the left or right side of the button on the CD/DVD player in the rear for the respective page. Rear entertainment and screens are switched on/off. After switching off the ignition, ...