Cupholders
Notes

Shatter-proof containers and no hot drinks
Use light and shatter-proof containers and do not transport hot drinks. Otherwise, there is the increased danger of injury in an accident.◀

Unsuitable containers
Do not forcefully push unsuitable containers into the cupholders. This may result in damage.◀
Front: manual transmission
On the center console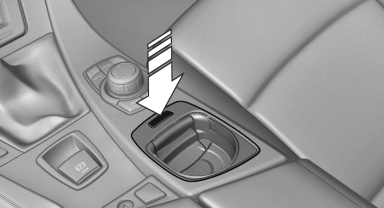 To open: press the button.
The insert folds out.
To use as a storage compartment, fold the insert back in.
Front: automatic transmission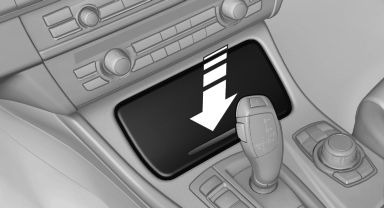 To open: press on the cover
Rear
In the front center armrest.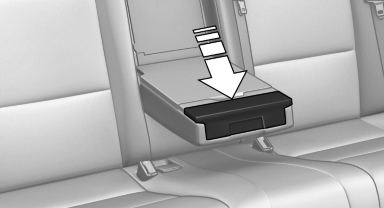 The cupholder can be adjusted for three different container sizes.
To open: press the button.
To reduce in size: fold closed to the desired position.
To close: fold all the way closed. The cupholder must be closed before it can be opened fully.
See also:
For Canadian customers
Canadian customers who wish to report a safety-related defect to Transport Canada, Defect Investigations and Recalls, may telephone the toll-free hotline 1-800-333-0510. You can also obtain ot ...
Measurement
Measurements are made by ultrasound sensors in the bumpers. The range is approx. 6 ft/2 m. An acoustic warning is first given: ▷ By the front sensors and two rear corner sensors at approx ...
View of an opened menu
When a menu is opened, it generally opens with the panel that was last selected in that menu. To display the first panel of a menu: ▷ Move the controller to the left repeatedly until the ...