Destination entry by map
Selecting the destination
1. "Navigation"
2. "Map"
The current position of the vehicle is indicated on the map.
3.

"Interactive map"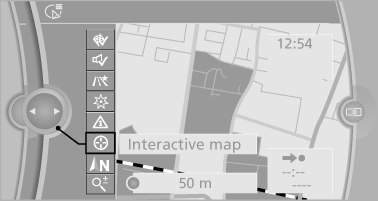 4. Select the destination with crosshairs.
▷ To change the scale: turn the controller.
▷ To shift the map: move the controller in the required direction.
▷ To shift the map diagonally: move the controller in the required direction and turn it.
Specifying the street
If the system does not recognize a street, one of the following is displayed:
▷ The name of a street in the vicinity.
▷ The county.
▷ The coordinates of the destination.
Additional functions
Additional functions are available on the interactive map after the controller is pressed.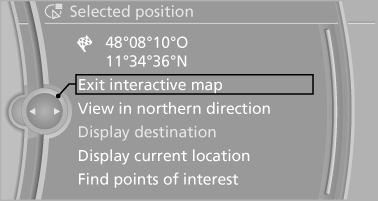 ▷

Select the symbol.
"Start guidance" or "Add as another destination"
Add a destination as a further destination
▷ "Exit interactive map": return to the map view.
▷ "View in northern direction" or "View in driving direction"
▷ "Display destination": the map section around the destination is displayed.
▷ "Display current location": the map section around your current location is displayed.
▷ "Find points of interest": the search for special destinations is started.
See also:
Important features in the engine compartment
BMW X5 BMW X5 1. Filler neck for washer fluid for the headlamp and window washer system 2. Starting aid terminal 3. Coolant expansion tank 4. Engine oil filler neck BMW X6 BMW ...
Warning stages
Prewarning This warning is issued, for example, when there is the impending danger of a collision or the distance to the vehicle ahead is too small. Acute warning with braking function Warning ...
Malfunction
Comfort Access may not function properly if it experiences interference from external sources such as mobile phones, metal objects, overhead power lines, transmission towers, etc. In this case, ...