Oil types for refilling
Notes

No oil additives
Do not use oil additives as these may cause engine damage.◀

Viscosity classes of engine oils
When selecting an engine oil, ensure that the engine oil belongs to one of the viscosity classes SAE 0W-40, SAE 0W-30, SAE 5W-40, or SAE 5W-30, or malfunctions or engine damage may occur.◀
The engine oil quality is critical for the life of the engine.
Due to national regulations, some oil types are not available in every country.
Approved oil types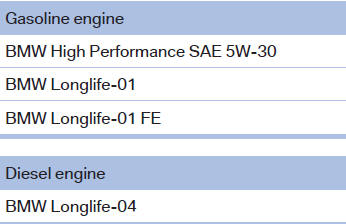 Further information on approved oil types can be obtained from the service center.
Alternative oil types
If the approved engine oils are not available, up to 1 US quart/liter of an oil with the following specification can be used: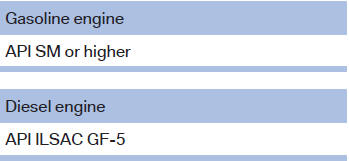 Oil change
An oil change should be carried out by the service center only.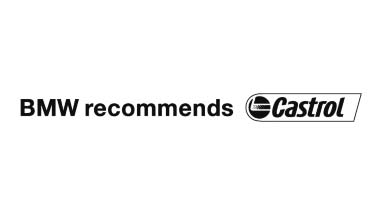 See also:
Selecting the sorting order of the names
Names can be displayed in a different order. 1. "Office" 2. "Contacts" 3. Open "Options". 4. "Display: last, first name" or "Display: first, last nam ...
Mobility
To ensure that you remain mobile at all times, this chapter supplies you with important information on the topics of fuels and lubricants, wheels and tires, service, maintenance, and Roadside ...
System limits
Personal responsibility The system cannot serve as a substitute for the driver's personal judgment of the traffic situation. In the event of a warning, do not jerk the steering wheel, as you ...