Oil types for refilling
Notes

No oil additives
Do not use oil additives as these may cause engine damage.◀

Viscosity classes of engine oils
When selecting an engine oil, ensure that the engine oil belongs to one of the viscosity classes SAE 0W-40, SAE 0W-30, SAE 5W-40, or SAE 5W-30, or malfunctions or engine damage may occur.◀
The engine oil quality is critical for the life of the engine.
Due to national regulations, some oil types are not available in every country.
Approved oil types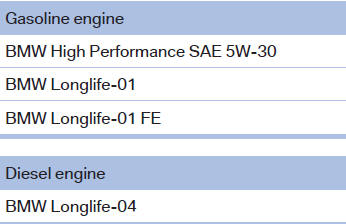 Further information on approved oil types can be obtained from the service center.
Alternative oil types
If the approved engine oils are not available, up to 1 US quart/liter of an oil with the following specification can be used: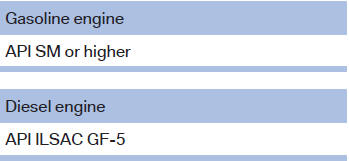 Oil change
An oil change should be carried out by the service center only.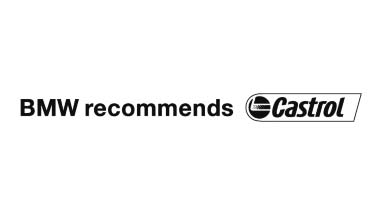 See also:
Climate control functions in detail
Manual air distribution Press the button repeatedly to select a program: Upper body region. Upper body region and footwell. Footwell. Windows and footwell: driver's side only. Window ...
Roadside parking lamps
The vehicle can be illuminated on one side. Switching on With the ignition switched off, press the lever either up or down past the resistance point for approx. 2 seconds. Switching off Brie ...
Cargo
The trunk measures 14 cubic feet, which makes it similar in size to the Audi A8's (14.6) but smaller than the Jaguar XJ's (16.4), LS 460's (18) and S-Class' (16.3). It's quite deep and rectangular ...