Closing the hood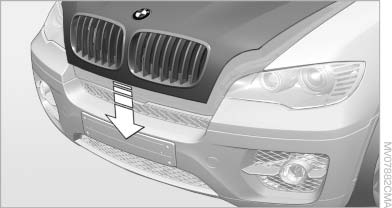 Closing the hood
Drop the hood from a height of approx. 16 in/ 40 cm. It must be clearly heard to engage.

Hood open when driving
If you see any signs that the hood is not completely closed while driving, pull over immediately and close it securely.◀

Danger of pinching
Make sure that the closing path of the hood is clear; otherwise, injuries may result.◀
See also:
Folding in display screen
When using the ski bag or when transporting bulky pieces of luggage, the display screen should be folded in, as otherwise it may be damaged. Note when the display screen is folded down When ...
Pressure specifications
The tables below provide all the correct inflation pressures for the specified tire sizes at ambient temperature. The inflation pressures apply to the tire sizes approved and tire brands recomm ...
Avoid high engine speeds
Use 1st gear to get the vehicle in motion. Beginning with 2nd gear, accelerate rapidly. When accelerating, shift up before reaching high engine speeds. When you reach the desired speed, shift i ...