Engaging transmission position
▷ Transmission position P can only be disengaged if the engine is running and the brake pedal is pressed.
▷ With the vehicle stationary, press on the brake pedal before shifting out of P or N; otherwise, the shift command will not be executed: shift lock.

Press on the brake pedal until you start driving
To prevent the vehicle from creeping after you select a driving position, maintain pressure on the brake pedal until you are ready to start.◀
Shifting into D, R, N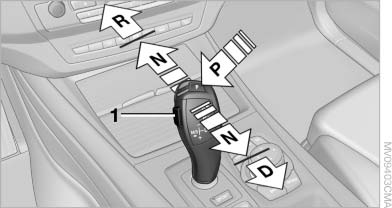 Shifting into D, R, N
Briefly push the selector lever in the desired direction, beyond a resistance point if necessary.
When shifting out of P or into R, simultaneously push the unlock button 1.
The engaged transmission position is displayed on the selector lever.
After releasing the selector lever, it returns to its center position.
Engaging P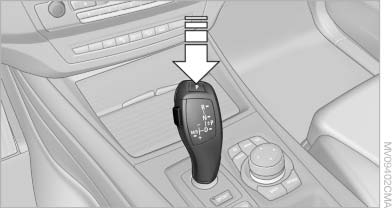 Engaging P
Press button P.
P is engaged if the driver's safety belt is unbuckled and the driver's door is opened while the vehicle is stationary and transmission position R or D is engaged. Before leaving the vehicle, ensure that the transmission position P is engaged; otherwise, the vehicle may begin to roll.
See also:
Switching between letters and numbers
Depending on the menu, you can switch between entering letters and numbers: ...
Buttons on the remote control
Buttons on the remote control 1. Unlocking 2. Locking 3. Trunk lid 4. Panic mode, headlamp courtesy delay feature ...
Display on the Control Display
The traffic area to the left and right is displayed on the Control Display. Guidelines at the bottom of the image show the position of the front of the vehicle. Brightness With the Side View ...