Engaging transmission position
▷ Transmission position P can only be disengaged if the engine is running and the brake pedal is pressed.
▷ With the vehicle stationary, press on the brake pedal before shifting out of P or N; otherwise, the shift command will not be executed: shift lock.

Press on the brake pedal until you start driving
To prevent the vehicle from creeping after you select a driving position, maintain pressure on the brake pedal until you are ready to start.◀
Shifting into D, R, N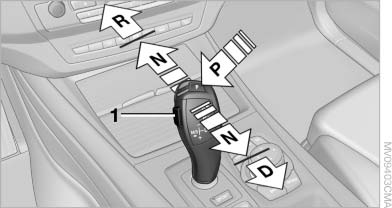 Shifting into D, R, N
Briefly push the selector lever in the desired direction, beyond a resistance point if necessary.
When shifting out of P or into R, simultaneously push the unlock button 1.
The engaged transmission position is displayed on the selector lever.
After releasing the selector lever, it returns to its center position.
Engaging P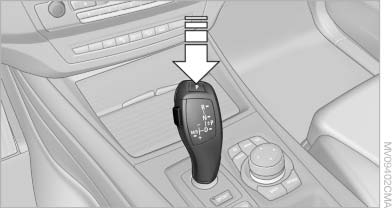 Engaging P
Press button P.
P is engaged if the driver's safety belt is unbuckled and the driver's door is opened while the vehicle is stationary and transmission position R or D is engaged. Before leaving the vehicle, ensure that the transmission position P is engaged; otherwise, the vehicle may begin to roll.
See also:
Opening/closing the glass sunroof and sliding visor together
▷ Slide switch back to the resistance point and hold. Glass sunroof and sliding visor open together as long as the switch is held down. ▷ Press switch back past the resistance po ...
The concept
The active steering actively varies the steering angle of the front wheels in relation to the steering wheel movements. In addition, it also varies the steering force required for steering depen ...
SPORT
Consistently sporty tuning of the suspension for greater driving agility with maximum driving stabilization. The program can be configured to individual specifications. The configuration is stor ...