Storing favorites
Up to 30 favorites can be stored in the favorites list. Available favorites are artist, track, game, league and team.
Storing the artist, track or game
It is only possible to store favorites that are currently being broadcast. The channel information must be available.
1. "Radio"
2. "Satellite radio"
3. Select "All channels" or the desired category.
4. Select the desired channel.
5. Press the controller again.
6. Select the artist, track or game.
Storing the league or team
Leagues or teams can be added to the favorites from a selection list.
1. "Radio"
2. "Satellite radio"
3.

"Manage favorites"
4. "Add sports information"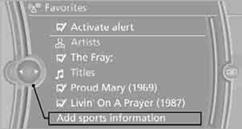 5. Select the desired league.
6. Select "Add all teams" or a desired team.
See also:
Fuses
Replacing fuses Never attempt to repair a blown fuse and do not replace a defective fuse with a substitute of another color or amperage rating; this could lead to a circuit overload, ultimate ...
Exterior care
Washing the vehicle Especially during the winter months, ensure that the vehicle is washed more frequently. Heavy soiling and road salt can lead to vehicle damage. After washing the vehicle, app ...
Self-leveling headlights
The self-leveling headlights feature adapts the light distribution to the contours of the road. The light distribution is lowered on hilltops to avoid blinding oncoming traffic and tilted in depr ...