Coupe: ski bag
The ski bag is designed for safe, clean transport of up to 4 pairs of standard skis or up to 2 snowboards.
With the ski bag you can stow skis with a length of up to 6.6 ft/2.0 m. When skis of 6.6 ft/2.0 m length are loaded, the overall capacity of the ski bag is reduced due to its tapered design.
Loading
Ensure that the skis are clean when they are loaded into the ski bag. Wrap sharp edges to prevent damage.
1. Fold down the center panel in the rear seat backrest.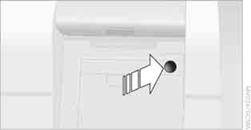 2. Press the button, reach into the recess and fold down the cover. To stabilize the cover in the folded-down position, place the center panel underneath it.
3. Open the Velcro fastener, spread the ski bag between the front seats and insert the skis or snowboards.
4. Attach the hook of the ski bag retaining strap to the eyelet on the side of the ski bag opening.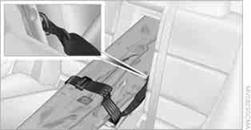 Securing cargo
Removing the ski bag
The ski bag can be completely removed, e.g. for faster drying or to allow you to use other inserts.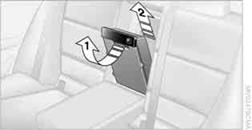 1. Fold down the center panel in the rear seat backrest.
2. Pull the handle, arrow 1.
3. Pull out the insert, arrow 2.

For more information on the various inserts available, contact your BMW center.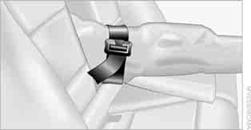 After loading, secure the ski bag and its contents. Tighten the retaining strap on the tensioning buckle for this purpose.

Secure the ski bag in the manner described; otherwise, it could endanger the car's occupants, e.g. in case of heavy braking or sudden swerving.
To store the ski bag, perform the steps described for loading in reverse order.
See also:
Distance to back of head: manual head restraints
Distance to back of head: manual head restraints ▷ Forward: by pulling ▷ Back: press the button and push the head restraint toward the rear. ...
Displays in the instrument cluster
The transmission position is displayed, e.g.: P. ...
Rear seat heating
Switching on Press the button once for each temperature level. The maximum temperature is reached when three LEDs are lit. Switching off Press the button longer. The LEDs go out. Temper ...