Timeshift
Approx. one hour of the program being broadcast on the channel currently being listened to is stored in a buffer. Prerequisite: the signal must be available.
The stored audio track can be played with a delay following the live broadcast. When the buffer is full, the older tracks are overwritten. The buffer is cleared when a new channel is selected.
Opening the timeshift function
1. "Radio"
2. "Satellite radio"
3.

"Replay - Time shift"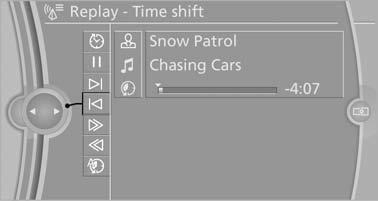 The red arrow shows the current playback position.
The time difference to the live broadcast is displayed next to the buffer bar. For live transmissions: "live".
Timeshift menu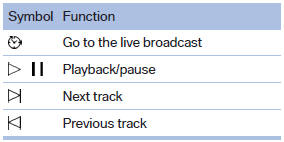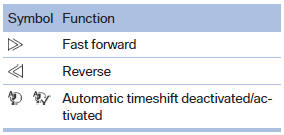 Automatic timeshift
When the function is activated, audio playback is stopped automatically in the event of:
Incoming and outgoing telephone calls.
Activation of the voice activation system.
Muting.
The audio playback then continues with a time delay.
To activate:
1. "Radio"
2. "Satellite radio"
3.

"Replay - Time shift"
4.

"Automatic time shift"
To deactivate:

"Automatic time shift".
See also:
Design: Exterior
The design of the new BMW X3 conveys elegance, agility and ruggedness. Up front, the forward-slanting BMW kidney grille and large headlight assembly combine with a powerful-looking front apron and ...
Required fuel
Super premium gasoline/AKI 91 This gasoline is highly recommended. Gasoline with lower AKI However, you may also use gasoline with less AKI. The minimum AKI Rating is 89. If you use gasoline wi ...
Rear
Rear Operation similar to front seat heating, without temperature distribution. ...