Rain sensor
The concept
The time between wipes is controlled automatically and depends on the intensity of the rainfall. The sensor is located on the windshield, directly in front of the interior rearview mirror.
Activating/deactivating the rain sensor
Press the button on the wiper lever.
When activated, the wipers move over the windshield once.
The LED in the steering column stalk lights up.

Deactivate the rain sensor in car washes
Deactivate the rain sensor when passing through an automatic car wash; otherwise, damage could be caused by undesired wiper activation.
Rain sensor sensitivity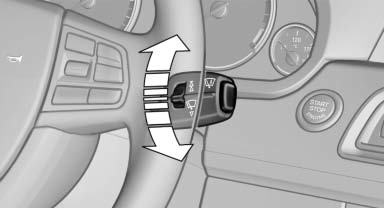 Turn the thumbwheel.