Adjusting
General information
The switches for adjusting the seats are located on the center armrest of the rear seats.

Center armrest
When folding down the center armrest, ensure that the area below the center head restraint is clear. Otherwise, injury may result.
At a glance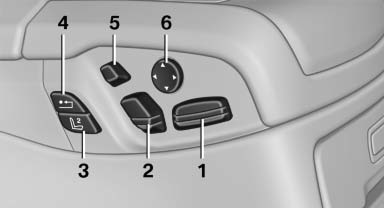 1 Forward/backward, tilt
2 Backrest
3 Adjust front passenger seat
4 Reset to standard position
5 Head restraint.
6 Lumbar support
The seats cannot be adjusted if the safety switch for the power windows has been pressed.
Settings in detail
1. Forward/back.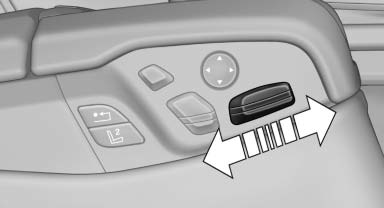 2. Seat tilt.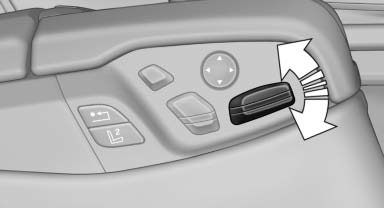 3. Backrest tilt.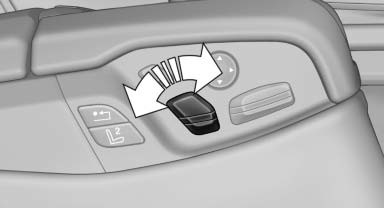 Lumbar support
The contour of the seat backrest can be adjusted in such a way that it supports the lumbar region of the spine. The lower back and the spine are supported for upright posture.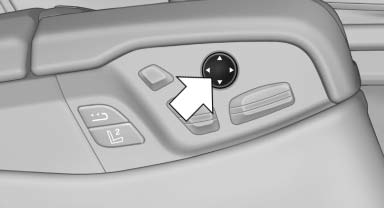 Press the front/rear section of the switch. The curvature is increased/decreased.
Press the upper/lower section of the switch. The curvature is shifted up/down.
Adjusting the front passenger seat from the rear
For more leg room in the rear, for example.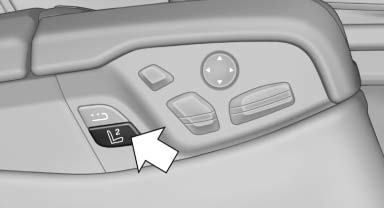 1. Press the button to activate the function, arrow.
2. Adjust the passenger seat, e.g., forward/ back.
3. Press the button to deactivate the function, arrow.
The function deactivates itself automatically after some time.
Reset* to standard position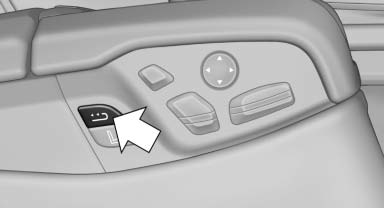 Maintain pressure on the button until the system completes the adjustment.
See also:
BMW Maintenance System
The maintenance system directs you to required maintenance measures and thereby supports you in maintaining road safety and the operational reliability of the vehicle. ...
Units of measure
Setting the units of measure To set the units for fuel consumption, route/distance, temperature, and pressure: 1. "Settings" 2. "Language/Units" Language/Units 3. Select t ...
Destination guidance with traffic bulletins
Semi-dynamic destination guidance When traffic bulletin reception is switched on, semi-dynamic destination guidance is active. The destination guidance system takes the available traffic informa ...