Using the door lock
General information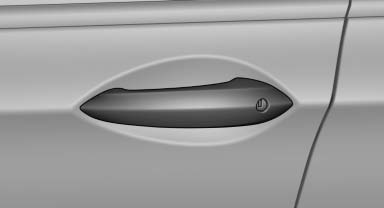 Do not lock from the outside
Do not lock the vehicle from the outside if there are people in it, as the vehicle cannot be unlocked from inside without special knowledge.

Remove the key before pulling the door handle
Before pulling the outside door handle, remove the key to avoid damaging the paintwork and the key.
In some country-specific versions, the alarm system* is triggered if the vehicle is unlocked via the door lock.
Manual operation
If an electrical malfunction occurs, lock or unlock the vehicle using a key via the door lock on the driver's door.
Locking the doors and trunk lid at once
In some vehicle equipment versions, only the driver's door can be locked via the door lock.
To lock all doors and the trunk lid at once:
1. With the doors closed, lock the vehicle using the button for the central locking system in the interior.
2. Unlock and open the driver's or front passenger door.
3. Lock the vehicle.
Lock the driver's door using the integrated key in the door lock, or
Press down the lock button of the front passenger door and close the door from the outside.
The fuel filler flap can only be locked using the remote control.
See also:
Automatic deactivation
In certain situations, the Automatic Engine Start/ Stop Function is deactivated automatically for safety reasons, such as when the driver is detected to be absent. Malfunction The automatic en ...
Parked-car ventilation
The concept The parked-car ventilation ventilates the vehicle interior and lowers its temperature, if necessary. The system can be switched on and off directly or by using two preset switch-on t ...
The concept
Side View provides an early look at cross traffic at blind driveways and intersections. Road users concealed by obstacles to the left and right of the vehicle can only be detected relatively lat ...