Airbags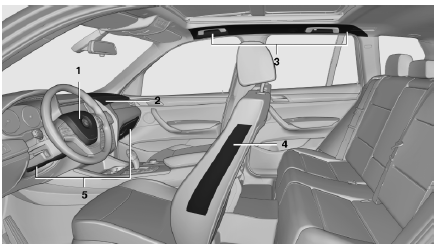 1 Front airbag, driver
2 Front airbag, front passenger
3 Head airbag
4 Side airbag
5 Knee airbags
Front airbags
Front airbags help protect the driver and front passenger by responding to frontal impacts in which safety belts alone cannot provide adequate restraint.
Side airbags
In a lateral impact, the side airbag supports the side of the body in the chest and lap area.
Head airbags
In a lateral impact, the head airbag supports the head.
Knee airbag
The knee airbag supports the legs in a frontal impact.
See also:
Vehicle care
Car care products BMW recommends using cleaning and care products from BMW, since these have been tested and approved. Car care and cleaning products Follow the instructions on the container. ...
The concept
Adaptive light control is a variable headlamp control system that enables dynamic illumination of the road surface. Depending on the steering angle and other parameters, the light from the head ...
Map view for split screen
The map view can be selected for the split screen independently from the main screen. 1. "Options" Open. 2. "Split screen" 3. Move the controller to the right repeatedly until ...