Airbags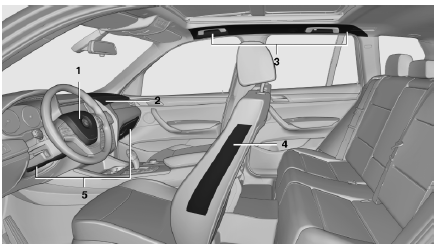 1 Front airbag, driver
2 Front airbag, front passenger
3 Head airbag
4 Side airbag
5 Knee airbags
Front airbags
Front airbags help protect the driver and front passenger by responding to frontal impacts in which safety belts alone cannot provide adequate restraint.
Side airbags
In a lateral impact, the side airbag supports the side of the body in the chest and lap area.
Head airbags
In a lateral impact, the head airbag supports the head.
Knee airbag
The knee airbag supports the legs in a frontal impact.
See also:
Terminating the voice activation system
Briefly press the button on the steering wheel or ›Cancel‹. ...
Wheels and tyres
The new BMW 3-Series Sedans are factory-fitted with attractively styled, high-quality alloy wheels. The BMW 335i and BMW 328i run on 17-inch Star-spoke wheels carrying 225/50 R17 tyres. The BMW 32 ...