Entering letters and numbers
General information
1. Turn the controller: select letters or numbers.
2. Select additional letters or numbers if needed.
3. "OK": confirm the entry.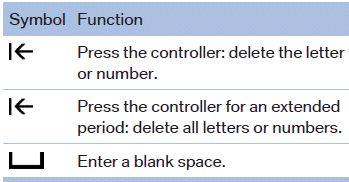 Switching between cases, letters and numbers
Depending on the menu, you can switch between entering upper and lower case, letters and numbers: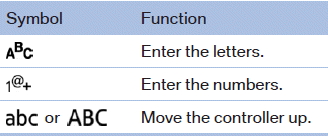 Entry comparison
Entry of names and addresses: the selection is narrowed down every time a letter is entered and letters may be added automatically.
The entries are continuously compared to the data stored in the vehicle.
► Only those letters are offered during the entry for which data is available.
► Destination search: town/city names can be entered using the spelling of language available on the Control Display.
See also:
Setting the voice dialog
You can set whether the system should use the standard dialog or a shorter version. In the shorter variant of the voice dialog, the announcements from the system are issued in an abbreviated fo ...
Check the tire inflation pressure regularly
Check and, if necessary, correct the tire inflation pressure, at least twice a month and before starting on a long trip. Low tire inflation pressure increases rolling resistance and thus raises ...
Entering a town/city separately
The town/city can be said as a complete word. With the destination entry menu displayed: 1. Press the button on the steering wheel. 2. ЫCityЛ or ЫSpell cityЛ 3. Wait for the system to prompt ...