Audio playback
Selecting the track using the button

Press the button repeatedly until the desired track is played.
Selecting a track via iDrive
Audio CDs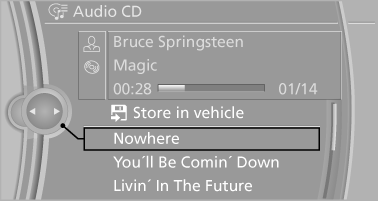 Select the desired track to begin playback
CDs/DVDs with compressed audio files
Depending on the data, some letters and numbers of the CD/DVD may not be displayed correctly.
1. Select the directory if necessary.
To go up a level in the directory: move the controller to the left.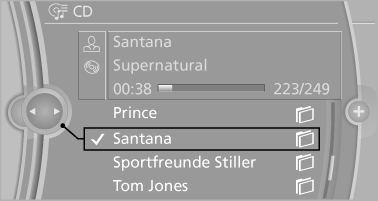 2. Select the desired track to begin playback.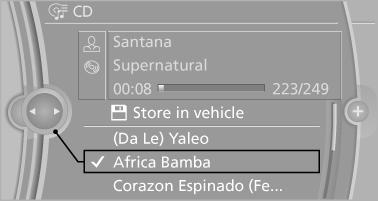 Displaying information on the track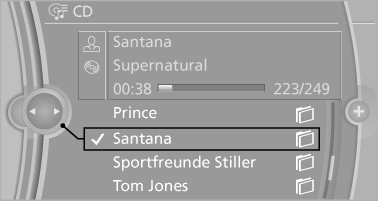 If information about a track has been stored, it is displayed automatically:
▷ Interpret.
▷ Album track.
▷ Number of tracks on the CD/DVD.
▷ File name of track.
Random playback
1. "CD/Multimedia"
2. "CD/DVD"
3. Select the desired CD or DVD.
4. "Options" Open.
5. "Random"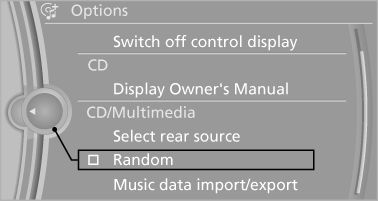 CDs/DVDs with compressed audio files: All tracks in the selected directory are played in random order.
Random mode is switched off when the audio source is changed and the ignition is switched off.
Fast forward/reverse

Press and hold the button.
Automatic repeat
The selected CDs or DVDs are repeated automatically.
See also:
Putting into operation after a power failure
Putting the parking brake into operation The parking brake should only be put into operation again if it was manually released due to an interruption in the supply of electrical power. Otherw ...
Maintenance and repairs
Advanced technology, e.g., the use of modern materials and high-performance electronics, requires suitable maintenance and repair methods. Therefore, have this work performed only by a BMW cent ...
Switching the microphone to mute
When a call is active, the microphone can be muted. 1. "Telephone". 2. "Active calls". 3. "Microphone mute" A microphone that has been switched to mute is automa ...