Clean the windshield, headlamps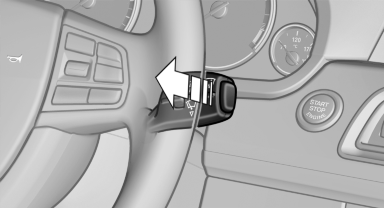 Clean the windshield, headlamps
Pull the lever.
The system sprays washer fluid on the windshield and activates the wipers briefly.
In addition, the headlamps are cleaned at regular intervals when the vehicle lights are switched on.

Do not use the washer system at freezing temperatures
Do not use the washers if there is any danger that the fluid will freeze on the windshield; otherwise, your vision could be obscured. For this reason, use antifreeze.
Avoid using the washer when the reservoir is empty; otherwise, you could damage the pump.◀
See also:
Assistance functions
Functional requirement The backup camera is switched on. The trunk lid is fully closed. Pathway lines Can be shown in the backup camera image when in transmission position R. Help ...
CD/Multimedia
CD/DVD drive Music collection External devices Tone ...
Controls
Controls 1. Press: switch the DVD system on/off Turn: left headphone volume and vehicle volume 2. Eject CD/DVD 3. Beginning of track Stop Play ...