Components of the integrated Owner's Manual
The integrated Owner's Manual consists of three parts, which offer various levels of information or access possibilities.
Quick Reference Guide
Located in the Quick Reference is important information for the operation of the vehicle, the operation of basic vehicle functions or for what to do in the event of a flat tire. This information can also be displayed during driving.
Search by pictures
Information and descriptions based on illustrations can be searched via search by pictures.
This is helpful, for example, if the description of an outfitting package that cannot be named is needed.
Owner's Manual
Information and descriptions can be searched by direct entry of a search term via the index.
Select components
1.

Press the button.
2. Turn the controller: open "Vehicle Info".
3. Press the controller.
4. Selecting desired range:
▷ "Quick reference"
▷ "Search by pictures"
▷ "Owner's Manual"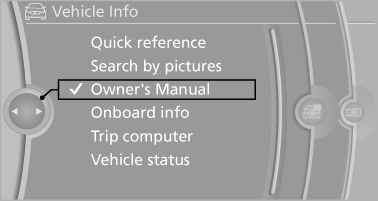 Select components
See also:
System limits
Personal responsibility The system cannot serve as a substitute for the driver's personal judgment of the course of the road and the traffic situation. In the event of a warning, do not jerk th ...
Remote control
Each remote control contains a rechargeable battery that is automatically recharged when it is in the ignition lock while the car is being driven. Use each remote control at least twice a year f ...
Right-hand/left-hand steering
The digital compass is set for right-hand or lefthand steering at the factory ...