Playback
Loading the CD/DVD player
Insert the CD/DVD with the printed side up.
Playback begins automatically.
Reading can take a few minutes with compressed audio files.
Starting playback
A CD/DVD is located in the CD/DVD player or DVD changer.
1. "CD/Multimedia".
2. "CD/DVD".
3. Select the desired CD or DVD.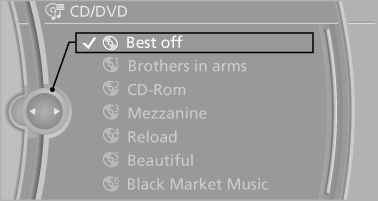 Playable formats
▷ DVD: DVD-ROM, DVD-R, DVD+R, DVDRW, DVD+RW, DVD-R DL, DVD+R DL, DVD audio (video part only), DVD video.
▷ CD: CD-ROM, CD-R, CD-RW, CD-DA, VCD, SVCD.
▷ Compressed audio files: MP3, WMA, AAC, M4A.
CD/DVD removal
1.

Press the button.
The CD/DVD is partially ejected.
2. Remove the CD/DVD.
See also:
Warning stages
Prewarning This warning is issued, for example, when there is the impending danger of a collision or the distance to the vehicle ahead is too small. Acute warning Warning of the imminent danger ...
Preventing an automatic engine stop with automatic transmission
The concept To make it possible to drive away very quickly, such as at an intersection, the automatic engine stop can be actively prevented. Preventing an engine stop using the brake pedal Th ...
Remove attached partsfollowing use
Remove auxiliary mirrors, roof or rear luggage racks which are no longer required following use. Attached parts on the vehicle impair the aerodynamics and increase the fuel consumption. ...