Time, date, external temperature
From radio readiness the external temperature and the time are displayed.
Set the time
Retrieving date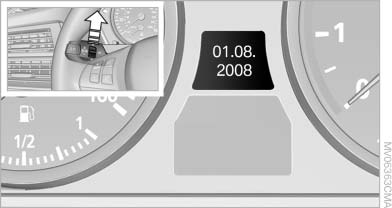 Retrieving date
Press the button on turn signal lever upward; the date appears.
Set the date
Pressing the button upward or downward several times changes the display between clock, external temperature, date, and Check Control messages
External temperature warning
If the display drops to +37 ℉/+3 ℃, a signal sounds and a warning lamp lights up. There is the increased danger of ice.

Ice on roads
Even at temperatures above +37 ℉/+3 ℃, there can be a risk of ice on roads.
Therefore, drive carefully on bridges and shady roads, for example, to avoid the increased danger of an accident.◀