Bypassing a section of the route
Calculate a new route for a route section.
1. "Navigation"
2. "Route information"
3. "New route for"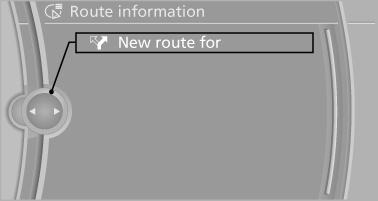 4. Turn the controller. Enter the number of kilometers within which you would like to return to the original route.
5. Press the controller.
See also:
The concept
Adaptive light control is a variable headlamp control system that enables dynamic illumination of the road surface. Depending on the steering angle and other parameters, the light from the head ...
Driving on poor roads
Your vehicle combines an all-wheel drive system with the advantages of a normal passenger car. Do not drive on unpaved terrain Do not drive on unpaved terrain, as otherwise the vehicle may ...
Signal tones
When approaching an object, an intermittent tone is sounded that indicates the position of the object. For example, if an object is detected to the left rear of the vehicle, a signal tone sounds ...