Rear doors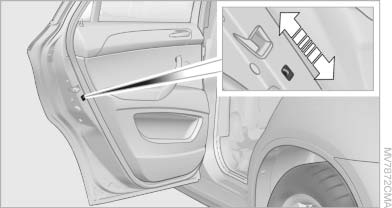 Rear doors
Push the locking lever on the rear doors down.
The door can now be opened from the outside only.
See also:
Capacities
...
2012 BMW 3 Series: Up Close
Of all BMW's cars, the 3 Series is the one that somehow escaped being hit by the Chris Bangle ugly stick, so I didn't go to the redesigned compact sedan's North American debut looking for sweet re ...
The concept
The DTC system is a version of the DSC in which forward momentum is optimized. The system ensures maximum forward momentum on special road conditions, e.g., unplowed snowy roads, but driving st ...