New contact
General information
A contact can have up to 8 phone numbers, 2 addresses, 3 e-mail addresses and one Internet address.
1. "Office"
2. "Contacts"
3. Open "Options".
4. "New contact"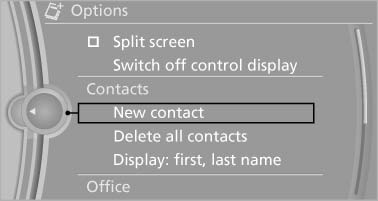 5. The entry fields are still filled with the previous entries: "Delete input fields"
6. Fill in the entry fields: select the symbol next to the entry field.
7. Enter the text and assign the contact type.
8. If the vehicle is equipped with a navigation system: Enter the address. Only addresses contained in the navigation data in the vehicle can be entered. This ensures that destination guidance is possible for all addresses. If necessary, "Accept address".
9. "Store contact in vehicle"
Contact types
Various contact types can be assigned to phone numbers and addresses.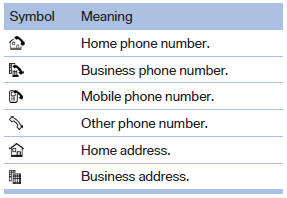 Specifying the home address
A home address can be stored. It appears at the top of the contact list.
1. "Home"
2. Create a contact.
3. "Store contact in vehicle"
See also:
Dimensions
BMW X5 All dimensions given in inches/mm. Smallest turning circle dia.: 42.0 ft/12.8 m With mixed tires the vehicle width may exceed the specified dimension. BMW X6 All dimensions given in ...
Maintenance and repairs
Advanced technology, e.g., the use of modern materials and high-performance electronics, requires suitable maintenance and repair methods. Therefore, have this work performed only by a BMW cent ...
General information
Contacts, appointments, tasks, notes, text messages, and e-mails from the mobile phone can be displayed on the Control Display if the mobile phone provides compatible support of these function ...