New contact
General information
A contact can have up to 8 phone numbers, 2 addresses, 3 e-mail addresses and one Internet address.
1. "Office"
2. "Contacts"
3. Open "Options".
4. "New contact"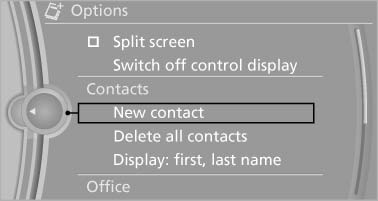 5. The entry fields are still filled with the previous entries: "Delete input fields"
6. Fill in the entry fields: select the symbol next to the entry field.
7. Enter the text and assign the contact type.
8. If the vehicle is equipped with a navigation system: Enter the address. Only addresses contained in the navigation data in the vehicle can be entered. This ensures that destination guidance is possible for all addresses. If necessary, "Accept address".
9. "Store contact in vehicle"
Contact types
Various contact types can be assigned to phone numbers and addresses.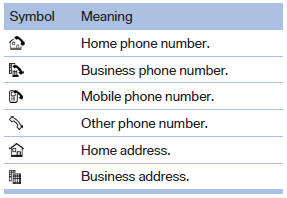 Specifying the home address
A home address can be stored. It appears at the top of the contact list.
1. "Home"
2. Create a contact.
3. "Store contact in vehicle"
See also:
What to do if...
▷ The current transmission position cannot be displayed? The vehicle is located in an unrecognized region, is in a poor reception area, or the system is currently determining the position ...
Visual warning
The approach of the vehicle to an object can be shown on the Control Display. Objects that are farther away are displayed on the Control Display before a signal tone sounds. A display appears a ...
Volume
▷ "Speed volume": speed-dependent volume control. ▷ "PDC": volume of the PDC signal compared to the entertainment sound output. ▷ "Gong": volume o ...