Destination entry by map
Selecting the destination
1. "Navigation"
2. "Map"
The current position of the vehicle is indicated on the map.
3.

"Interactive map"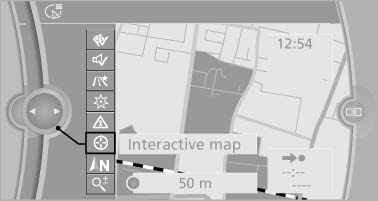 4. Select the destination with crosshairs.
To change the scale: turn the controller.
To shift the map: move the controller in the required direction.
To shift the map diagonally: move the controller in the required direction and turn it.
Specifying the street
If the system does not recognize a street, one of the following is displayed:
The name of a street in the vicinity.
The county.
The coordinates of the destination.
Additional functions
Additional functions are available on the interactive map after the controller is pressed.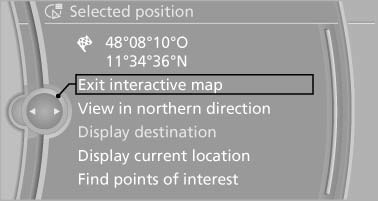 Select the symbol.
"Start guidance" or "Add as another destination" Add a destination as a further destination.
"Exit interactive map": return to the map view.
"View in northern direction" or "View in driving direction"
"Display destination": the map section around the destination is displayed.
"Display current location": the map section around your current location is displayed.
"Find points of interest": the search for special destinations is started.
See also:
Activating
Switch position with the ignition switched on. The turning lamps are automatically switched on depending on the steering angle or the use of turn signals. To avoid blinding oncoming traffic ...
Front seat heating
Switching on Press the button once for each temperature level. The maximum temperature is reached when three LEDs are lit. If the drive is continued within approx. 15 minutes, the seat ...
Components of the integrated Owner'sManual
The integrated Owner's Manual consists of three parts, which offer various levels of information or access possibilities. Quick Reference Guide Located in the Quick Reference is important inform ...