Destination entry by map
Selecting the destination
1. "Navigation"
2. "Map"
The current position of the vehicle is indicated on the map.
3.

"Interactive map"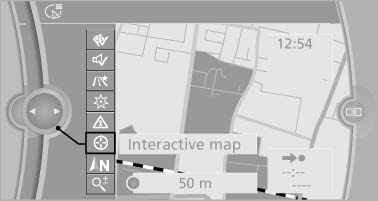 4. Select the destination with crosshairs.
To change the scale: turn the controller.
To shift the map: move the controller in the required direction.
To shift the map diagonally: move the controller in the required direction and turn it.
Specifying the street
If the system does not recognize a street, one of the following is displayed:
The name of a street in the vicinity.
The county.
The coordinates of the destination.
Additional functions
Additional functions are available on the interactive map after the controller is pressed.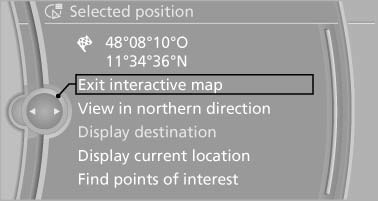 Select the symbol.
"Start guidance" or "Add as another destination" Add a destination as a further destination.
"Exit interactive map": return to the map view.
"View in northern direction" or "View in driving direction"
"Display destination": the map section around the destination is displayed.
"Display current location": the map section around your current location is displayed.
"Find points of interest": the search for special destinations is started.
See also:
Malfunction
The small warning lamp flashes in yellow and then lights up continuously; the larger warning lamp comes on in yellow. On the Control Display, the tires are shown in gray and a message appear ...
Malfunction
The yellow warning lamp flashes and then lights up continuously. A Check Control message is displayed. No flat tire can be detected. Display in the following situations: A wheel without T ...
RDS
RDS broadcasts additional information, such as the station name, in the FM wave band. Switching the RDS on/off 1. "Radio". 2. "FM". 3. "Options" Open. 4. "RDS ...