Washer fluid reservoir

Adding washer fluid
Only add washer fluid when the engine is cool, and then close the cover completely to avoid contact between the washer fluid and hot engine parts.
Otherwise, there is the danger of fire and a risk to personal safety if the fluid is spilled.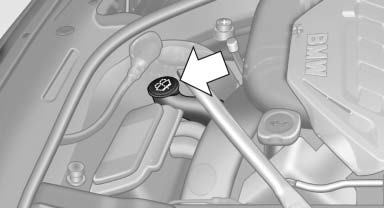 All washer nozzles are supplied from one reservoir.
Fill with water and – if required – with a washer antifreeze, according to the manufacturer's recommendations.
Mix the washer fluid before adding to maintain the correct mixing ratio.
Capacity
Approx. 5.3 US quarts/ 5 liters
See also:
For US customers
The following only applies to vehicles owned and operated in the US. If you believe that your vehicle has a defect which could cause a crash or could cause injury or death, you should immediate ...
Connecting jumper cables
1. Fold open the cover of the BMW starting-aid terminal. To do so, pull the tab. 2. Attach one terminal clamp of the positive jumper cable to the positive terminal of the battery, or to the cor ...
Exterior mirrors
General information The mirror on the passenger side is more curved than the driver's mirror. Estimating distances correctly Objects reflected in the mirror are closer than they appear. Do no ...