Washer fluid reservoir

Adding washer fluid
Only add washer fluid when the engine is cool, and then close the cover completely to avoid contact between the washer fluid and hot engine parts.
Otherwise, there is the danger of fire and a risk to personal safety if the fluid is spilled.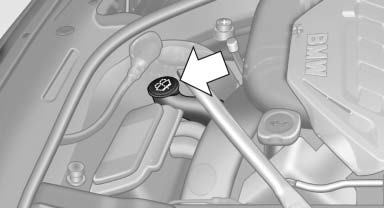 All washer nozzles are supplied from one reservoir.
Fill with water and – if required – with a washer antifreeze, according to the manufacturer's recommendations.
Mix the washer fluid before adding to maintain the correct mixing ratio.
Capacity
Approx. 5.3 US quarts/ 5 liters
See also:
Striking front end with precise contours and multi-faceted surfaces
The wedge shape of the new 3-Series' silhouette and its wider track (+ 37/47 mm at the front/rear) underline the sporting appearance of the new BMW. By clearly accentuating the width of the car, t ...
Driving Experience Switch
The concept The Driving Experience Switch can be used to adjust the certain characteristics of the vehicle. Various programs can be selected for this purpose. The Driving Experience Switch and ...
California Proposition 65 Warning
California laws require us to state the following warning: Engine exhaust and a wide variety of automobile components and parts, including components found in the interior furnishings in a vehi ...