First aid pouch
Some of the articles contained in the first aid pouch have a limited service life. Therefore, check the expiration dates of the contents regularly and replace any items in good time, if necessary.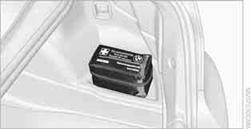 The first aid pouch is located on the right-hand side of the cargo area in a storage area.
See also:
Automatic-Transmission
Starting the engine 1. Depress the brake pedal. 2. Press the Start/Stop button. The ignition is activated automatically for a certain time and is stopped as soon as the engine starts. ...
DSC Dynamic StabilityControl
The concept DSC prevents traction loss in the driving wheels when driving away and accelerating. DSC also recognizes unstable vehicle conditions, such as fishtailing or nose-diving. Subject to ...
Tire identification marks
Tire size 255/50 R 19 103 Y 255: nominal width in mm 50: aspect ratio in % R: radial tire code 19: rim diameter in inches 103: load rating, not for ZR tires Y: speed rating, before the R on ZR ...