Adjusting
General information

Do not adjust the seat while driving
Never attempt to adjust the driver's seat while driving.
The seat could respond with unexpected movement and the ensuing loss of vehicle control could lead to an accident.

Do not incline the backrest too far to the rear
Do not incline the backrest on the front passenger side too far to the rear during driving. Otherwise, there is the danger of sliding under the safety belt in an accident. This would eliminate the protection normally provided by the belt.
The seat setting is stored for the remote control currently in use. When the vehicle is unlocked via the remote control, the position is automatically retrieved if this function, was activated.
Overview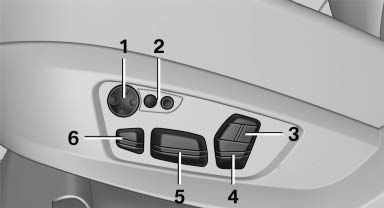 1 Lumbar support*
2 Backrest width*
3 Shoulder support*
4 Backrest
5 Forward/back, height, tilt
6 Thigh support*
Adjustments in detail
1. Forward/back.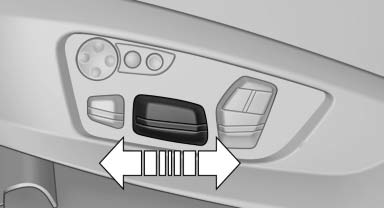 2. Height.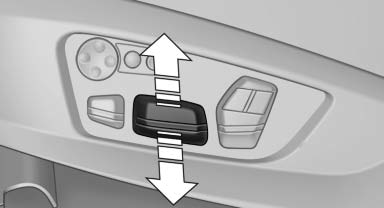 3. Seat tilt.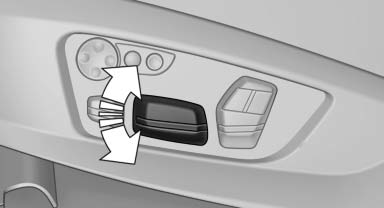 4. Backrest tilt.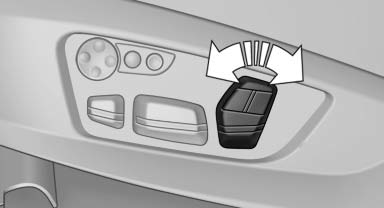 5. Thigh support*.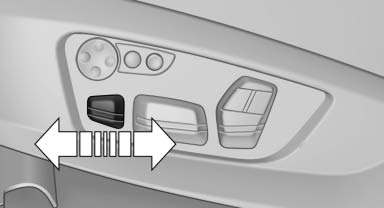 See also:
Tire identification marks
Tire size 255/50 R 19 103 Y 255: nominal width in mm 50: aspect ratio in % R: radial tire code 19: rim diameter in inches 103: load rating, not for ZR tires Y: speed rating, before the R on ZR ...
Front
A storage compartment is located in the center armrest between the front seats. Opening Raise the center arm rest. Repositioning Center armrest can be pushed in the longitudinal direction. I ...
Hydroplaning
On wet or slushy roads, a wedge of water can form between the tires and road surface. This phenomenon is referred to as hydroplaning. It is characterized by a partial or complete loss of contact ...