Pairing and connecting cell phone

Pairing the mobile phone
To avoid becoming distracted and posing an unnecessary hazard both to your own vehicle's occupants and to other road users, only pair the mobile phone while the vehicle is stationary.
1. "Telephone".
2. "Bluetooth® (phone)".
3. "Add new phone".
The Bluetooth name of the vehicle is displayed.
4. To perform additional steps on the mobile phone, refer to the mobile phone operating instructions: e.g. search for or connect the Bluetooth device or a new device.
The Bluetooth name of the vehicle appears on the mobile phone display.
5. Select the Bluetooth name of the vehicle on the mobile phone display.
Prompt via iDrive or the mobile phone to enter the same Bluetooth passkey.
6. Enter the passkey and confirm.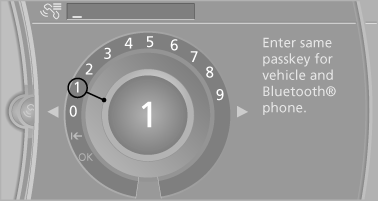 7. Select the functions for which the mobile phone is to be used.
8. "OK"
If the pairing was successful, the mobile phone appears at the top of the list of mobile phones.
The functions supported by the mobile phone and audio device are displayed as symbols when paired.
White symbol: the function is active.
Gray symbol: the function is inactive.

Four mobile phones can be paired with the vehicle at once. Three mobile phones can be connected with the vehicle at once.
If pairing was unsuccessful: What to do if...
See also:
The concept
HDC is a downhill driving assistant that automatically controls vehicle speed on steep downhill gradients. Without requiring brake application, the vehicle moves at slightly more than twice wa ...
Equalizer
Setting for individual audio frequency ranges. Adjusting the equalizer 1. "CD/Multimedia", "Radio" or "Settings" 2. "Tone" 3. "Equalizer" 4. Sele ...
Split screen map view
The map view can be selected for the split screen independently from the main screen. 1. Open "Options". 2. "Split screen" 3. Move the controller to the right repeatedly unt ...