Pairing and connecting cell phone

Pairing the mobile phone
To avoid becoming distracted and posing an unnecessary hazard both to your own vehicle's occupants and to other road users, only pair the mobile phone while the vehicle is stationary.
1. "Telephone".
2. "Bluetooth® (phone)".
3. "Add new phone".
The Bluetooth name of the vehicle is displayed.
4. To perform additional steps on the mobile phone, refer to the mobile phone operating instructions: e.g. search for or connect the Bluetooth device or a new device.
The Bluetooth name of the vehicle appears on the mobile phone display.
5. Select the Bluetooth name of the vehicle on the mobile phone display.
Prompt via iDrive or the mobile phone to enter the same Bluetooth passkey.
6. Enter the passkey and confirm.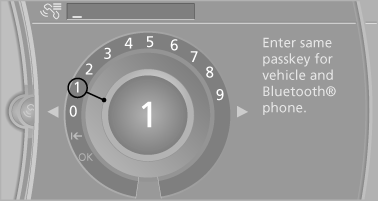 7. Select the functions for which the mobile phone is to be used.
8. "OK"
If the pairing was successful, the mobile phone appears at the top of the list of mobile phones.
The functions supported by the mobile phone and audio device are displayed as symbols when paired.
White symbol: the function is active.
Gray symbol: the function is inactive.

Four mobile phones can be paired with the vehicle at once. Three mobile phones can be connected with the vehicle at once.
If pairing was unsuccessful: What to do if...
See also:
Vehicle equipment
All standard, country-specific and optional equipment that is offered in the model series is described in this chapter. Therefore, equipment is also described that is not available in a vehicle, e ...
Switching the microphone to mute
When a call is active, the microphone can be muted. 1. "Telephone" 2. "Active calls" 3. "Microphone mute" A microphone that has been switched to mute is automati ...
BMW X5 xDrive35d: Maintaining the Benchmark with BMW Advanced Diesel Technology.
The BMW Advanced Diesel X5 xDrive35d was introduced to the United States as a 2009 model, and despite increased competition remains the fastest, most fuel efficient diesel-powered vehicle in its c ...