Opening the Options menu

Press the button.
The "Options" menu is displayed.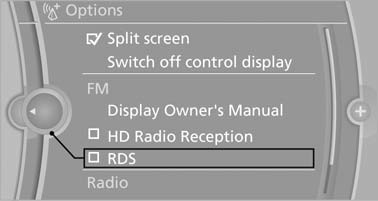 Additional options: move the controller to the right repeatedly until the "Options" menu is displayed.
Options menu
The "Options" menu consists of various areas:
Screen settings, e.g., "Split screen". This area remains unchanged.
Control options for the selected main menu, e.g., for "Radio".
If applicable, further operating options for the selected menu, e.g., "Store station".
Changing settings
1. Select a field.
2. Turn the controller until the desired setting is displayed.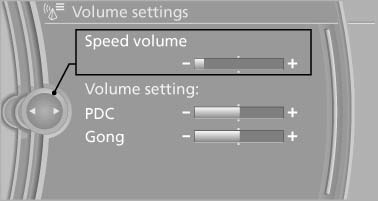 3. Press the controller.
See also:
Entering letters and numbers
1. Turn the controller: select the letters or numbers. 2. Select additional letters or numbers if needed. 3. "OK": confirm entry. Switching between letters andnumbersD ...
Washer fluid reservoir
Adding washer fluid Only add washer fluid when the engine is cool, and then close the cover completely to avoid contact between the washer fluid and hot engine parts. Otherwise, there is the d ...
Display the appointment
1. Select the desired appointment. 2. Scroll through the appointment if necessary: ▷ Turn the controller. ▷ Select the symbol. Using contact data Contact data from appointments, tasks ...