Airbags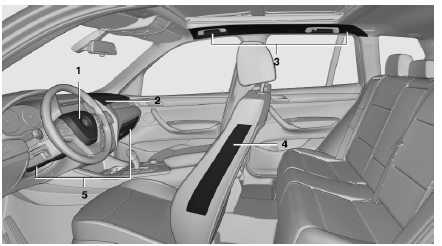 1 Front airbag, driver
2 Front airbag, front passenger
3 Head airbag
4 Side airbag
5 Knee airbags
Front airbags
Front airbags help protect the driver and front passenger by responding to frontal impacts in which safety belts alone cannot provide adequate restraint.
Side airbags
In a lateral impact, the side airbag supports the side of the body in the chest and lap area.
Head airbags
In a lateral impact, the head airbag supports the head.
Knee airbag
The knee airbag supports the legs in a frontal impact.
See also:
Adjusting the volume
Turn the knob until the desired volume is selected. The setting is stored for the remote control currently in use. ...
In cargo area
Open the right-hand side panel in the cargo area. ...
Displaying contacts
General information 1. "Office" 2. "Contacts" All contacts are listed in alphabetical order. Depending on the number of contacts, an A-Z search is offered. A symbol ind ...