Airbags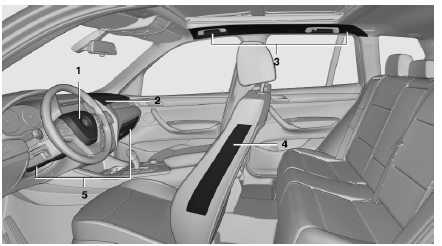 1 Front airbag, driver
2 Front airbag, front passenger
3 Head airbag
4 Side airbag
5 Knee airbags
Front airbags
Front airbags help protect the driver and front passenger by responding to frontal impacts in which safety belts alone cannot provide adequate restraint.
Side airbags
In a lateral impact, the side airbag supports the side of the body in the chest and lap area.
Head airbags
In a lateral impact, the head airbag supports the head.
Knee airbag
The knee airbag supports the legs in a frontal impact.
See also:
X3 in the Market
As you can probably guess by now, the market has caught up with and in many ways passed the X3. That said, if it weren't for BMW's initiative, this segment might not even exist today, let alone of ...
Malfunction
The yellow warning lamp flashes and then lights up continuously. A Check Control message is displayed. No flat tire can be detected. Display in the following situations: A wheel without T ...
Headlamp courtesy delay feature
The low beams stay lit for a short while after the ignition is switched off, if the lamps are switched off and the headlamp flasher is switched on. Setting the duration 1. "Settings" 2. ...