Airbags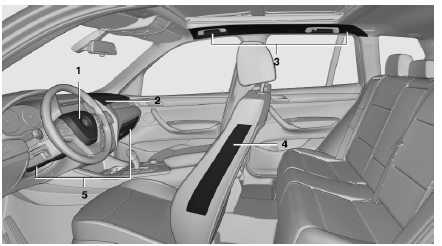 1 Front airbag, driver
2 Front airbag, front passenger
3 Head airbag
4 Side airbag
5 Knee airbags
Front airbags
Front airbags help protect the driver and front passenger by responding to frontal impacts in which safety belts alone cannot provide adequate restraint.
Side airbags
In a lateral impact, the side airbag supports the side of the body in the chest and lap area.
Head airbags
In a lateral impact, the head airbag supports the head.
Knee airbag
The knee airbag supports the legs in a frontal impact.
See also:
Turn signal
Do not fold in the exterior mirrors During driving and during the operation of the turn signals/warning flashers, do not fold in the exterior mirror, or else the additional flasher lights ...
Assist system information
Display on the Control Display Information on the Assist system can be displayed by activating Assist on the Control Display. 1. "Settings" 2. "Control display" 3. "Driv ...
Tow-starting, towing away
Observe the applicable laws and regulations for tow-starting and towing vehicles. Do not transport any passengers other than the driver in a vehicle that is being towed. Using a tow fittingThe ...