Airbags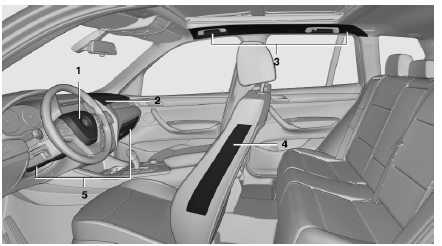 1 Front airbag, driver
2 Front airbag, front passenger
3 Head airbag
4 Side airbag
5 Knee airbags
Front airbags
Front airbags help protect the driver and front passenger by responding to frontal impacts in which safety belts alone cannot provide adequate restraint.
Side airbags
In a lateral impact, the side airbag supports the side of the body in the chest and lap area.
Head airbags
In a lateral impact, the head airbag supports the head.
Knee airbag
The knee airbag supports the legs in a frontal impact.
See also:
Reprogramming individual buttons
1. Switch on the ignition. 2. Press and hold the interior rearview mirror button to be programmed. 3. As soon as the interior rearview mirror LED starts flashing slowly, hold the hand-held transm ...
Traffic Jump
Traffic and weather information for a selected region is broadcast every few minutes. Selecting a region 1. "Radio". 2. "Satellite radio". 3. "Options" Open. 4. &q ...
General information
Contacts, appointments, tasks, notes, text messages, and e-mails from the mobile phone can be displayed on the Control Display if the mobile phone provides compatible support of these function ...