Split screen
General information
Additional information can be displayed on the right side of the split screen, e.g., information from the onboard computer.
In the divided screen view, the so-called split screen, this information remains visible even when you change to another menu.
Switching the split screen on and off
1.

Press the button.
2. "Split screen"
Selecting the display
1.

Press the button.
2. "Split screen"
3. Move the controller until the split screen is selected.
4. Press the controller or select "Split screen content".
5. Select the desired menu item.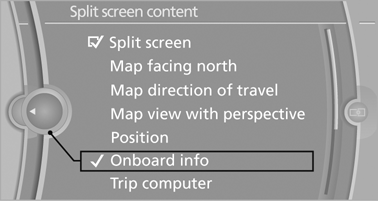 See also:
Changing between panels
After a menu item is selected, e.g., "Radio", a new panel is displayed. Panels can overlap. ▷ Move the controller to the left. The current panel is closed and the previous panel ...
Additional functions
Activating/deactivating the additional functions Activate the functions before pairing to be able to use them in the vehicle. Information on suitable mobile phones that support this function. ...
DVD con
With the DVD control, you can select the title and chapter, open the DVD-specific menu, and operate functions such as Language, Fast forward and Reverse or Freeze frame. A DVD can briefly deact ...