All around the steering wheel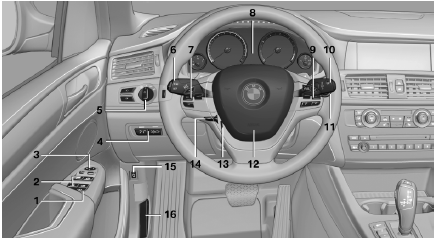 1 Rear window safety switch
2 Power windows
3 Exterior mirror operation 4
Lane departure warning

Collision warning 5 Lamps

Front fog lamps

Parking lamps

Low beams

Automatic headlamp control
Daytime running lights
Adaptive light control
High-beam Assistant

Instrument lighting
6 Steering column stalk, left

Turn signal

High beams, headlamp flasher

High-beam Assistant

Roadside parking lamps

Computer
7 Steering wheel buttons, left

Store speed

Resume speed

Cruise control on/off, interrupting
Cruise control rocker switch
8 Instrument cluster
9 Steering wheel buttons, right

Entertainment source

Volume

Voice activation

Telephone
Thumbwheel for selection lists
10 Steering column stalk, right

Windshield wipers

Rain sensor

Clean the windshields and headlamps

Rear window wiper
11

Start/stop the engine and switch the ignition on/off

Auto Start/Stop function
12 Horn
13

Steering wheel heating
14 Adjust steering wheel
15

Open the tailgate
16 Unlock hood
See also:
Vehicle equipment
All standard, country-specific and optional equipment that is offered in the model series is described in this chapter. Therefore, equipment is also described that is not available in a vehicle, e ...
Tire tread
Summer tires Do not drive with a tire tread depth of less than 0.12 in/3 mm. There is an increased danger of hydroplaning if the tread depth is less than 0.12 in/3 mm. Winter tires Do not driv ...
Speed limit
Display of a speed limit which, when reached, should cause a warning to be issued. The warning is repeated if the vehicle speed drops below the set speed limit once by at least 3 mph/5 km/h. Di ...