All around the steering wheel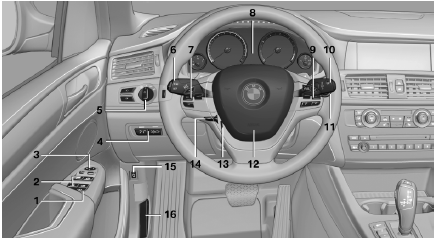 1 Rear window safety switch
2 Power windows
3 Exterior mirror operation 4
Lane departure warning

Collision warning 5 Lamps

Front fog lamps

Parking lamps

Low beams

Automatic headlamp control
Daytime running lights
Adaptive light control
High-beam Assistant

Instrument lighting
6 Steering column stalk, left

Turn signal

High beams, headlamp flasher

High-beam Assistant

Roadside parking lamps

Computer
7 Steering wheel buttons, left

Store speed

Resume speed

Cruise control on/off, interrupting
Cruise control rocker switch
8 Instrument cluster
9 Steering wheel buttons, right

Entertainment source

Volume

Voice activation

Telephone
Thumbwheel for selection lists
10 Steering column stalk, right

Windshield wipers

Rain sensor

Clean the windshields and headlamps

Rear window wiper
11

Start/stop the engine and switch the ignition on/off

Auto Start/Stop function
12 Horn
13

Steering wheel heating
14 Adjust steering wheel
15

Open the tailgate
16 Unlock hood
See also:
Functional requirements
▷ There are no external sources of interference nearby. ▷ To lock the vehicle, the remote control must be located outside of the vehicle. ▷ The next unlocking and locking cycle ...
Last destinations
At a glance The destinations previously entered are stored automatically. The destinations can be called up and used as a destination for destination guidance. Calling up the last destination ...
Note before adjusting
Do not adjust the seat while driving Never attempt to adjust the driver's seat while driving. The seat could respond with unexpected movement and the ensuing loss of vehicle control could le ...