Opening the Options menu

Press the button.
The "Options" menu is displayed.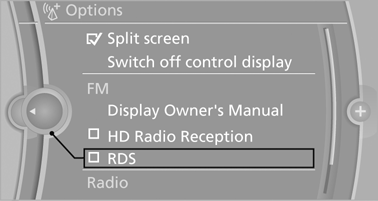 Additional options: move the controller to the right repeatedly until the "Options" menu is displayed.
Options menu
The "Options" menu consists of various areas:
▷ Screen settings, e.g., "Split screen".
This area remains unchanged.
▷ Control options for the selected main menu, e.g., for "Radio".
▷ If applicable, further operating options for the selected menu, e.g., "Store station".
See also:
Reprogramming individual buttons
1. Switch on the ignition. 2. Press and hold the interior rearview mirror button to be programmed. 3. As soon as the interior rearview mirror LED starts flashing slowly, hold the hand-held tra ...
Audio/video playback
Audio Audio can be played back via rear entertainment from any source in the vehicle. Operation is the same as for the front audio playback. Video Video can be played back in the rear from the ...
Additional functions
General information Activate the functions before pairing to be able to use them in the vehicle. Information on suitable mobile phones, that support these functions. Additional telephone A mo ...