Software Update
The vehicle supports various external devices depending on the current software version. With a software update, the vehicle can support new cell phones or new external device, for example.
The updating of the software is done via:
▷ USB.
Updates and related current information is available at www.bmw.com/update.
▷ TeleService.
Existing software can be updated directly via the vehicle.
Displaying the current version
The currently installed software is displayed.
1. "Settings".
2. "Software update".
3. "Show current version".
SelectDesired version to displayAdditional information.
Updating software via USB
The software may only be updated when the vehicle is stationary.
1. Store the file for the software-update in the main director of a USB flash drive.
2. Insert the USB flash drive into the USB interface of the USB audio interface in the center armrest. An update via the USB interface in the glove compartment is not possible.
3. "Settings".
4. "Software update".
5. "Update software"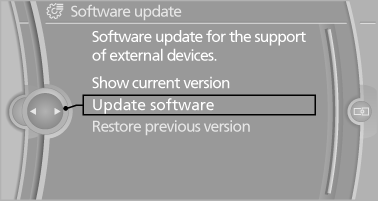 6. "Start update".
7. "OK"
All listed software updates are installed.
Restoring the previous version
If it should become necessary, the software version prior to the last software update can be restored.
The previous version may only be restored when the vehicle is stationary.
1. "Settings".
2. "Software update".
3. "Restore previous version".
4. "OK" Double-click.
All listed software updates are removed.
Note
While the software is being updated or a previous version is being restoredBMW Assist, Office functions and the connected devices are temporarily unavailable. Wait several minutes for the functions to become available again.
See also:
X6 in the Market
You might be thinking to yourself: Why is BMW coming out with another SUV? Well, the South Carolina-built X5 has been a solid seller for BMW, giving the brand a foothold in the SUV segment, but th ...
General information
The cargo area can be enlarged by folding down the rear seat backrest. The rear seat backrest is divided at a ratio of 40– 20–40. Danger of pinching Before folding down the rear seat backrests ...
1975: the first generation - premiere as a two-door sedan with high-output four-cylinder engines
The presentation of the first BMW 3-Series in July 1975 saw BMW write a new chapter into the automotive history books. The two-door sedan wasted no time in leaving its own distinctive stamp on the ...