Software Update
The vehicle supports various external devices depending on the current software version. With a software update, the vehicle can support new cell phones or new external device, for example.
The updating of the software is done via:
▷ USB.
Updates and related current information is available at www.bmw.com/update.
▷ TeleService.
Existing software can be updated directly via the vehicle.
Displaying the current version
The currently installed software is displayed.
1. "Settings".
2. "Software update".
3. "Show current version".
SelectDesired version to displayAdditional information.
Updating software via USB
The software may only be updated when the vehicle is stationary.
1. Store the file for the software-update in the main director of a USB flash drive.
2. Insert the USB flash drive into the USB interface of the USB audio interface in the center armrest. An update via the USB interface in the glove compartment is not possible.
3. "Settings".
4. "Software update".
5. "Update software"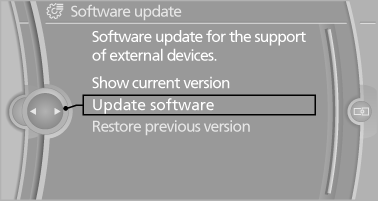 6. "Start update".
7. "OK"
All listed software updates are installed.
Restoring the previous version
If it should become necessary, the software version prior to the last software update can be restored.
The previous version may only be restored when the vehicle is stationary.
1. "Settings".
2. "Software update".
3. "Restore previous version".
4. "OK" Double-click.
All listed software updates are removed.
Note
While the software is being updated or a previous version is being restoredBMW Assist, Office functions and the connected devices are temporarily unavailable. Wait several minutes for the functions to become available again.
See also:
Avoiding unintentional alarms
The tilt alarm sensor and interior motion sensor can be switched off together, such as in the following situations: ▷ In automatic car washes. ▷ In duplex garages. ▷ During tr ...
Notes
If the battery is discharged, an engine can be started using the battery of another vehicle and two jumper cables. Only use jumper cables with fully insulated clamp handles. To prevent personal ...
Minimum tread depth
Minimum tread depth Wear indicators are distributed around the tire's circumference and have the legally required minimum height of 0.063 in/1.6 mm. They are marked on the side of the tire wit ...