Timeshift
Approx. one hour of the program being broadcast on the channel currently being listened to is stored in a buffer. Prerequisite: the signal must be available.
The stored audio track can be played with a delay following the live broadcast. When the buffer is full, the older tracks are overwritten. The buffer is cleared when a new channel is selected.
Opening the timeshift function
1. "Radio"
2. "Satellite radio"
3.

"Replay - Time shift"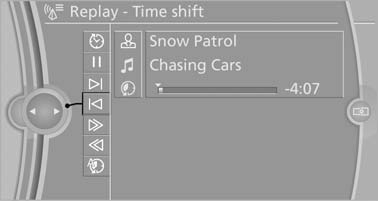 Replay - Time shift
▷ The red arrow shows the current playback position.
▷ The time difference to the live broadcast is displayed next to the buffer bar.
▷ For live transmissions "live".
Timeshift menu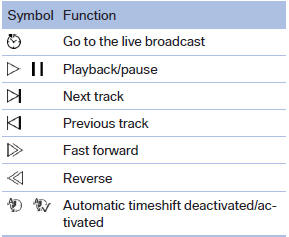 Automatic timeshift
When the function is activated, audio playback is stopped automatically in the event of:
▷ Incoming and outgoing telephone calls.
▷ Activation of the voice activation system.
▷ Muting.
The audio playback then continues with a time delay.
To activate:
1. "Radio"
2. "Satellite radio"
3.

"Replay - Time shift"
4.

"Automatic time shift"
To deactivate:

"Automatic time shift"
See also:
Information at a glance
Repeatedly pressing the button on the turn signal lever calls up the following information on the info display: ▷ Range. ▷ Average fuel consumption. ▷ Average speed. ▷ ...
BMW X5 xDrive50i: BMW's Twin-Turbocharged V-8.
The new BMW X5 xDrive50i takes its place as the flagship of the X5 family, yielding 400 horsepower at 5,500 rpm and 450 lb-ft of torque at 1,750 - 4,500 rpm from its twin-turbocharged 4.4 liter V- ...
Switching off
Press the button repeatedly until the LEDs go out. ...