Bypassing a section of the route
Calculate a new route for a route section.
1. "Navigation"
2. "Route information"
3. "New route for"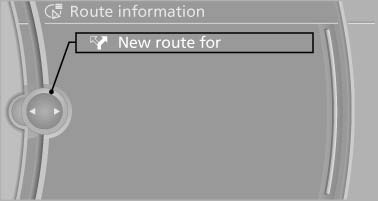 New route for
4. Turn the controller. Enter the number of kilometers within which you would like to return to the original route.
5. Press the controller.
See also:
Software Update
The vehicle supports various external devices depending on the current software version. With a software update, the vehicle can support new cell phones or new external device, for example. ...
Traffic Jump
Traffic and weather information for a selected region is broadcast every few minutes. Selecting a region 1. "Radio" 2. "Satellite radio"3. Open "Options". 4. " ...
xDrive
xDrive is the all-wheel-drive system of your vehicle. Concerted action by the xDrive and DSC further optimize traction and driving dynamics. The xDrive all-wheel-drive system variably distributes ...