Opening and closing: From inside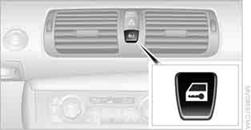 This button serves to unlock or lock doors and the trunk lid, but does not activate the anti-theft system. The fuel filler flap remains unlocked.
Automatic locking
You can also set the situations in which the car locks:
1. "Settings"
2. "Door locks"
3. Select the desired function:
> "Lock if no door is opened"
The central locking system automatically locks the vehicle after a short time if no door has been opened.
> "Lock after start. to drive"
The central locking system locks the vehicle as soon as you begin to drive.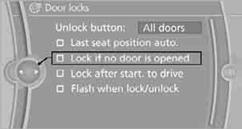 The setting is stored for the remote control currently in use.
Unlocking and opening doors
> Either unlock the doors together using the button for the central locking system and then pull the door handle above the armrest or pull on the door handle of each door twice: the first time unlocks the door, the second time opens it.
Locking
> Use the central locking button to lock all of the doors simultaneously, or press down the safety lock button of a door.
To prevent you from being locked out, the open driver's door cannot be locked using the lock button.

Persons or animals in a parked vehicle could lock the doors from the inside. You should therefore take the remote control with you when you leave the vehicle so that the latter can be opened from outside.
See also:
Indicator/warning lamps
Indicator/warning lamps The indicator and warning lamps can light up in a variety of combinations and colors. Several of the lamps are checked for proper functioning and light up temporarily w ...
Under the Hood
BMW's inline-six-cylinder engine makes 230 horsepower and 200 pounds-feet of torque in the 128i. It works through a six-speed manual or a six-speed automatic. The automaker says a stick-shift 128i ...
Car care products
BMW recommends using cleaning and care products from BMW, since these have been tested and approved. Car care and cleaning products Follow the instructions on the container. When cleaning the ...