Entering letters and numbers
1. Turn the controller: select the letters or numbers.
2. Select additional letters or numbers if needed.
3. "OK": confirm entry.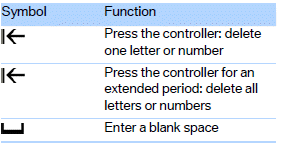 Switching between letters andnumbers
Depending on the menu, you can switch between entering letters and numbers:

Switching between uppercase and lowercase letters
Depending on the menu, you can switch between entering uppercase letters and lowercase letters: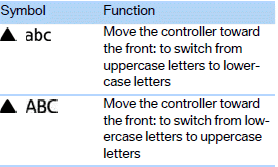 Entry comparison
Entry of names and addresses: the selection is narrowed down every time a letter is entered and letters may be added automatically.
The entries are continuously compared to the data stored in the vehicle.
> During entry, only letters for which there are data are offered.
> Destination search: town/city names can be entered with the spelling used in any of the languages available on the Control Display.
See also:
Filtering traffic bulletins
You can set which traffic bulletins appear on the map. 1. "Navigation" 2. "Map" 3. Open "Options". 4. "Traffic Info categories" 5. Select the desired ca ...
Timeshift
Approx. one hour of the program being broadcast on the channel currently being listened to is stored in a buffer. Prerequisite: the signal must be available. The stored audio track can be playe ...
Navigation system
General informationThe navigation system can determine the precise position of the vehicle, with the aid of satellites and vehicle sensors, and can reliably guide you to every entered destination. ...