My contacts
General information
List of all contacts stored in the vehicle.
Displaying contacts
1. "Contacts"
2. "My contacts"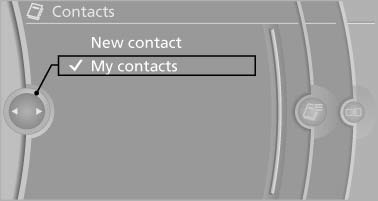 All contacts are listed in alphabetical order. Depending on the number of contacts, an A-Z search is offered.
A symbol indicates the storage location of the contacts: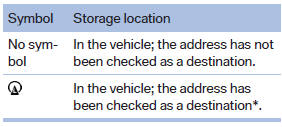 Editing a contact
1. Select the desired contact.
2. "Edit contact"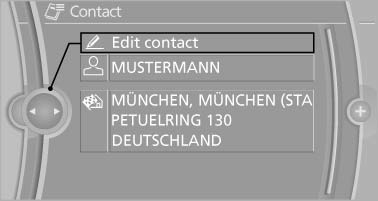 3. Change the entries.
4. Move the controller to the left.
5. "Yes"
Selecting the contact as a navigation destination*
1. Select the desired contact.
2. Select the address.
3. "Start guidance" or "Add as another destination"
Checking the address as a destination*
An address that is to be used for destination guidance must match the navigation data contained in the vehicle. The address can be checked for this purpose.
1. Select the desired contact and highlight the address.
2. Open "Options".
3. "Check as destination"
4. Correct and store the address if necessary.
Selecting the sorting order of the names
Names can be displayed in a different order.
1. "My contacts"
2. Highlight the contact.
3. Open "Options".
4. "Display: last, first name" or "Display: first, last name"
Exporting/importing contacts
Contacts can be exported and imported via the Personal Profile.
Deleting contacts
1. "My contacts"
2. Highlight the contact.
3. Open "Options".
4. "Delete contact" or "Delete all contacts"
See also:
DVD changer
In the cargo area The DVD changer is stored behind the left side trim in the cargo area. Controls and displays 1 Empty DVD compartments. 2 LED on DVD slot. 3 Buttons for DVD compartments. ...
The concept
The system is functional at speeds beginning at approx. 20 mph/30 km/h. The speed specified using the lever on the steering column is maintained. The system brakes on downhill gradients if engin ...
System limits
Sudden tire damage Sudden serious tire damage caused by external influences cannot be indicated in advance. A natural, even pressure loss in all four tires cannot be detected. Therefore, check ...