General driving notes
Closing the trunk lid

Drive with the trunk lid closed
Only drive with the tailgate closed; otherwise, in the event of an accident or braking or evasive maneuvers, passengers or other road users may be injured or the vehicle may be damaged. In addition, exhaust fumes may enter the passenger compartment.
If driving with the tailgate open cannot be avoided:
Close all windows and the glass sunroof*.
Greatly increase the blower speed.
Drive moderately.
Hot exhaust system

Hot exhaust system
High temperatures are generated in the exhaust system.
Do not remove the heat shields installed and never apply undercoating to them. When driving, standing at idle and while parking, take care to avoid possible contact between the hot exhaust system and any highly flammable materials such as hay, leaves, grass, etc. Such contact could lead to a fire, and with it the risk of serious personal injury as well as property damage.
Do not touch hot exhaust pipes; otherwise, there is the danger of getting burned.
Climate control windshield*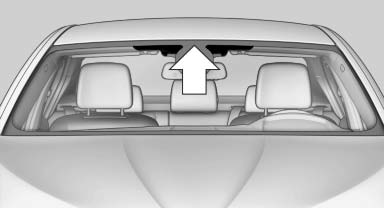 The marked area is not covered with heat reflective coating.
Use this area for garage door openers, devices for electronic toll collection, etc.
Climate control laminated tinted safety glass
The vehicle glass provides full protection against the harmful effects of UV radiation on the skin.
Mobile communication devices in the vehicle

Mobile communication devices in the vehicle
It is advised that you do not use mobile communication devices, e.g., mobile phones, inside the vehicle without connecting them directly to the external antenna. Otherwise, the vehicle electronics and mobile communication devices can interfere with each other. In addition, there is no assurance that the radiation generated during transmission will be discharged from the vehicle interior.
Hydroplaning
On wet or slushy roads, a wedge of water can form between the tires and road surface.
This phenomenon is referred to as hydroplaning. It is characterized by a partial or complete loss of contact between the tires and the road surface, ultimately undermining your ability to steer and brake the vehicle.

Hydroplaning
When driving on wet or slushy roads, reduce your speed to prevent hydroplaning.
Driving through water
Drive though calm water only if it is not deeper than 9.8 inches/25 cm and at this height, no faster than walking speed, up to 6 mph/10 km/h.

Adhere to water depth and speed limitations
Do not exceed this water depth and walking speed; otherwise, the vehicle's engine, the electrical systems and the transmission may be damaged.
See also:
Modern Line
In contrast to Luxury Line models, the high-class trim elements included in Modern Line versions of the new BMW 3-Series Sedan are all in satinated aluminium, underlining the contemporary characte ...
System limits
Sudden tire damage Sudden serious tire damage caused by external influences cannot be indicated in advance.◀ A natural, even pressure loss in all four tires cannot be detected. Therefore ...
Equalizer
Setting for individual audio frequency ranges. Adjusting the equalizer 1. "CD/Multimedia", "Radio" or "Settings" 2. "Tone" 3. "Equalizer" 4. Sele ...