Automatic climate control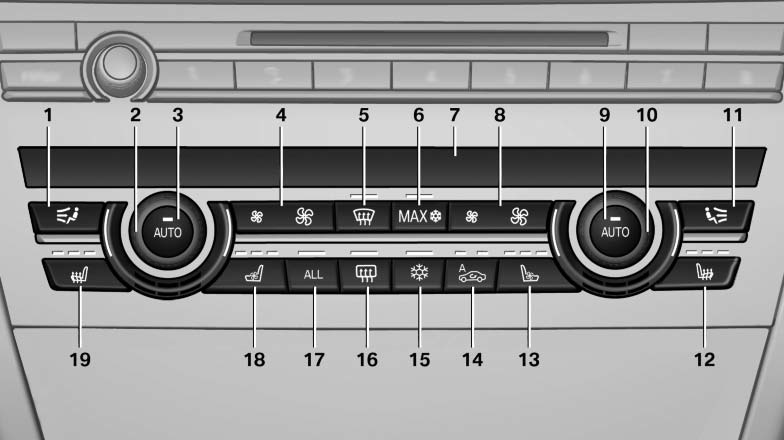 1 Air distribution, left
2 Temperature, left
3 AUTO program, left
4 Air volume, AUTO intensity, residual heat, left
5 Remove ice and condensation
6 Maximum cooling
7 Display
8 Air volume, AUTO intensity, right
9 AUTO program, right
10 Temperature, right
11 Air distribution, right
12 Seat heating*, right
13 Active seat ventilation*, right
14 Automatic recirculated-air control/recirculated- air mode
15 Cooling function
16 Rear window defroster
17 ALL program
18 Active seat ventilation*, left
19 Seat heating*, left
See also:
Opening the traffic bulletins
1. "Navigation". 2. "Map". 3. "Traffic Info". First the traffic bulletins for the calculated route are displayed. The traffic bulletins are sorted by their distance ...
Switching on/off and interrupting cruise control
Switching on Press the button on the steering wheel. The indicator lamps in the instrument cluster light up and the marking in the speedometer is set to the current speed. Cruise control c ...
BMW X5 with BMW Advanced Diesel:
required fuel
Ultra-Low Sulfur Diesel The engine of your BMW is designed for diesel with a low sulfur content: Ultra-low sulfur diesel ASTM D 975-07a. Only refuel with ultra-low sulfur diesel. The percentag ...