Opening and closing: from the inside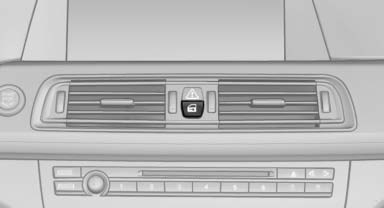 Unlocking and opening
Either unlock the doors together using the button for the central locking system and then pull the door handle above the armrest or
Pull the door opener twice individually on each door: the first time unlocks the door, the second time opens it.
Locking and unlocking

Press the button in the vehicle. The doors and the trunk lid are locked or unlocked when the front doors are closed, but they are not secured against theft.
The fuel filler flap remains unlocked.
Automatic locking
The setting is stored for the remote control currently in use.
1. "Settings"
2. "Door locks"
3. Select the desired function:
"Lock if no door is opened" The vehicle locks automatically after a short period of time if a door is not opened.
"Lock after start. to drive"
The vehicle locks automatically after you drive away.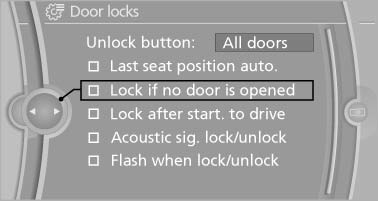 See also:
In interior
The fuses are located in the front passenger footwell on the underside of the instrument cluster. 1. Unscrew screws, refer to arrows, of footwell trim panel. 2. Lay the trim panel in the footw ...
Rear view: striking indications of dynamic and secure roadholding.
From the rear, the new BMW 6-Series Coupe exudes power, athleticism and solidity. Bulging wheel arches accentuate the wide track of the new car, offering a hint of its impressive roadholding. Adde ...
Malfunction
Comfort Access may not function properly if it experiences interference from external sources such as mobile phones, metal objects, overhead power lines, transmission towers, etc. In this case, ...