Opening the Options menu

Press the button.
The "Options" menu is displayed.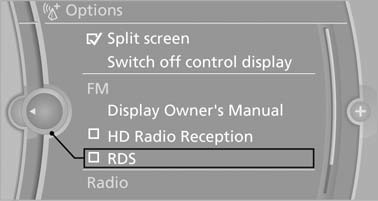 Additional options: move the controller to the right repeatedly until the "Options" menu is displayed.
Options menu
The "Options" menu consists of various areas:
Screen settings, e.g., "Split screen". This area remains unchanged.
Control options for the selected main menu, e.g., for "Radio".
If applicable, further operating options for the selected menu, e.g., "Store station".
Changing settings
1. Select a field.
2. Turn the controller until the desired setting is displayed.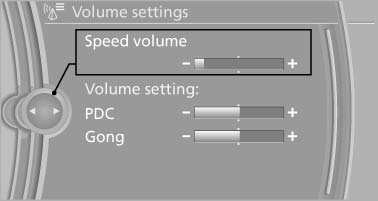 3. Press the controller.
See also:
Managing a subscription
To be able to enable or unsubscribe from the channels, you must have reception. It is usually at its best when you have an unobstructed view of the sky. The channel name is displayed in the st ...
Destination entry by voice
General information Instructions for voice activation system. When making a destination entry by voice, you can change between voice operation and iDrive. To have the available spoken in ...
Manual destination entry
General information The system supports you in entering street names and house numbers by automatically completing the entry and providing entry comparisons. Stored town/city and street names ca ...