Dimensions
Width, height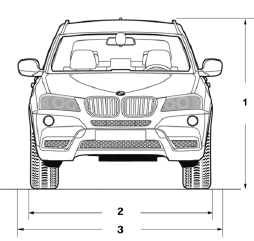 1 Vehicle height: 66 inches/1,675 mm
2 Vehicle width without mirrors: 74 inches/1,881 mm
3 Vehicle width with mirrors: 82.6 inches/ 2,098 mm
Length, wheel base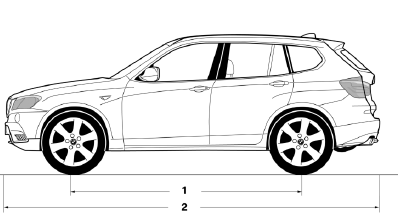 1 Wheel base: 110.6 inches/2,810 mm
2 Vehicle length: 182.9 inches/4,648 mm
Smallest turning circle
Dia.: 39 ft/11.9 m
See also:
Displays on the Control Display
Display the computer or trip computer on the Control Display. 1. "Vehicle Info" 2. "Onboard info" or "Trip computer" Onboard info Displays on the "Onboard in ...
Example: dialing a phone number
1. Briefly press the button on the steering wheel. 2. ›Dial number‹ The system says: »Please say the number« 3. E.g., ›123 456 790‹ The system says: »123 456 790. Continue? « 4. ›Dial‹ T ...
Message from the Concierge service
Storing an address 1. Select the desired message. 2. "Options" Open. 3. "Store contact in vehicle" Selecting additional functions Additional functions are available when a mes ...