Dimensions
Width, height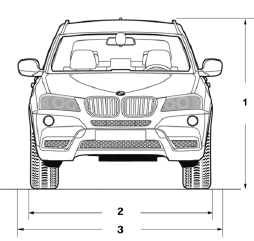 1 Vehicle height: 66 inches/1,675 mm
2 Vehicle width without mirrors: 74 inches/1,881 mm
3 Vehicle width with mirrors: 82.6 inches/ 2,098 mm
Length, wheel base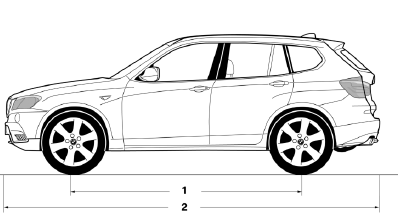 1 Wheel base: 110.6 inches/2,810 mm
2 Vehicle length: 182.9 inches/4,648 mm
Smallest turning circle
Dia.: 39 ft/11.9 m
See also:
Environmental conditions
Say the commands, numbers, and letters smoothly and with normal volume, emphasis, and speed. Always say commands in the language of the voice activation system. When selecting a radio ...
Emergency detection of remote control
It is possible to switch on the ignition or start the engine in situations such as the following: ▷ Interference of radio transmission to remote control by external sources. ▷ Discha ...
Volume
▷ "Speed volume": speed-dependent volume control. ▷ "PDC": volume of the PDC signal compared to the entertainment sound output. ▷ "Gong": volume o ...