Selection lists in theinstrument cluster
The concept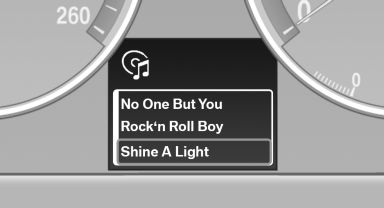 The following can be operated using the buttons and the thumbwheel on the steering wheel and the display in the instrument cluster:
► Current audio source.
► Redial on telephone.
► Activation of the voice activation system.
Activating a list and adjusting the setting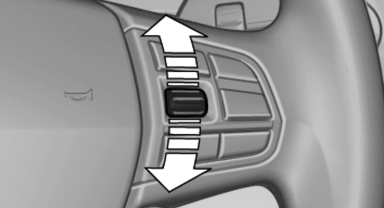 On the right side of the steering wheel, turn the thumbwheel to activate the corresponding list.
Using the thumbwheel, select the desired setting and confirm it by pressing the thumbwheel.
See also:
View of an opened menu
When a menu is opened, it generally opens with the panel that was last selected in that menu. To display the first panel of a menu: ► Move the controller to the left repeatedly until the f ...
Selecting a category
1. "Radio" 2. "Satellite radio" 3. "Category" 4. Select the desired category. ...
Switch off any functions that are not currently needed
Functions such as seat heating and the rear window defroster require a lot of energy and consume additional fuel, especially in city and stopand- go traffic. Therefore, switch off these functio ...