Dimensions
Width, height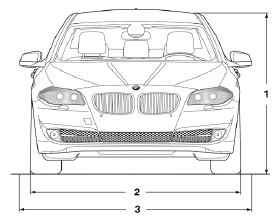 1. Vehicle height: 57.6 inches / 1,464 mm
2. Vehicle width, without mirrors: 73.2 inches / 1,860 mm
3. Vehicle width with mirrors: 82.4 inches / 2,094 mm
Length, wheel base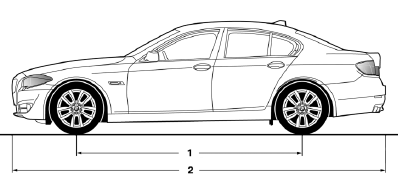 1. Wheel base: 116.9 inches / 2,968 mm
2. Length: 193.1 inches / 4,905 mm
Smallest turning circle
Dia.: 39 ft 2 in/11.95 m
Dia. xDrive: 39 ft 8 in/12.10 m
Dia. with active steering: 37 ft 6 in/11.45 m
See also:
Status of the Owner's Manual
The manufacturer of your vehicle pursues a policy of constant development that is conceived to ensure that our vehicles continue to embody the highest quality and safety standards. In rare cas ...
Airbags
The following airbags are located under the marked covers: 1. Front airbags 2. Coupe: head airbags 3. Side airbags in the seat backrests 4. Convertible: knee airbags Pro ...
Symbols
Indicates precautions that must be followed precisely in order to avoid the possibility of personal injury and serious damage to the vehicle. ◄ Marks the end of a specific item of inform ...